COOLtech™ Water Addition System



Summit Foundry System's COOLtech™ water addition system is the field-proven way to control foundry return sand temperatures. Originally designed and implemented in 1979 by the founders of Control Technology, our system uses only the most reliable components offered by today's technology. Our software process for determination of water required to automatically maintain desired sand temperatures is precise and proven without over wetting the return sand.
The COOLtech™ water addition system with a mixer/aerator unit are sized from 30 to 300 ton per hour. The combination of these two units will reduce hot return sand by 30 to 50°F on most days except extreme high ambient temperature and humidity days. Return sand hotter than 200°F will be cooled a greater amount. Return sand at temperatures below 150°F will be cooled a lesser amount.
The COOLtech™ system is easily installed to new or existing equipment. Pre-assembled components consist of the bolt-on adjustable spray assembly, two (2) infrared sensor assemblies, weigh cell idler assembly, and NEMA 12 process control panel. Optional water pressure booster package is also available for plants with water pressure lower than 40PSI.
An infrared temperature sensor and weigh cell idler are mounted on the return sand belt prior to the calibrated spray nozzle assembly. Signals from these sensors are relayed to a programmable controller which instantly and continuously determines the amount of water needed to cool sand to the desired temperature. This information is used to sequence the spray assembly solenoid valves in correct order, putting the precise amount of water on the sand. A second infrared sensor is mounted upsteam from a mixing unit to determine if the total system performance has conditioned the sand to match the user's setpoint range. Data from this feedback sensor is monitored by the programmable controller and used to correct any deviations from the setpoint. The result is consistent return sand temperature and moisture content.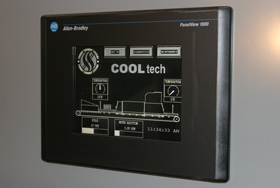 The heart of the control system is our control panel. It may be mounted at the material handling system or remotely, such as in a master control room. The front of the control panel features an Allen Bradley operator interface touch screen PanelView. The display illustrates the system and indicates inlet sand temperatures prior to spray nozzle assembly, material flow (TPH), GPM of water addition and upstream discharge sand temperature. The operator interface touch screen is also used for setpoint entries and system status. If a system fault occurs, messages indicating the source will be displayed in plain language on the display. Display will direct operator to diagnostic screens. With this unit, need for connecting a PC to the programmable controller is nearly eliminated. Also housed within the main control panel is the scale unit controller. It features automatic adjustable dampening with zero and span adjusting potentiometers for quick and accurate weight calibration.
The COOLtech™ system is easily interfaced to a communication link or host PLC via data networking for remote process control and information exchange.
Standard electrical components are Allen Bradley where applicable. Other industrial control manufacturer's equipment can be specified by customer.